MasterDater



MASTER DATER EVENTS is a family-run,
triangle based business, focused on
delivering recession-proof, high-quality
and fun social events to make it easier
for people to make friends and maybe
even meet a special someone!


Mailing
List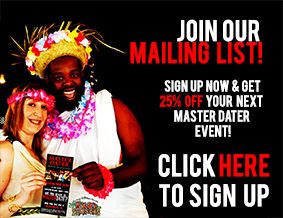 Recent
News

RECENT UPDATE: Master Dater turns five
this June! Come out and celebrate with us
at our special 20s/30s Speedating Event
on Saturday, June 13th!  Buy Your Ticket Now!